Planning a baby shower? Stuck on how to create the invites? Not sure what to write? Creating custom baby shower invites is not that difficult; however it can be a little tricky choosing the right colours and images, as well as words. Here are some cool ideas that you'll love!
Gender Neutral Ideas
If you want to go with a gender neutral theme, you need to choose colours and ideas that will suit both genders. These would be yellow, red, purple or green colour scheme.
The elements that you can play with are baby carriages, bibs, toys and more. Since you don't know the gender of the baby, focus on the expecting mother instead. You can add images of a happy pregnant woman, with her name.
Keep the wordings light and playful, with rhymes or puns to entertain your guests and get them excited about the event. Here are some incredible ideas for you!
Some samples: Bumble bee-themed baby shower invite-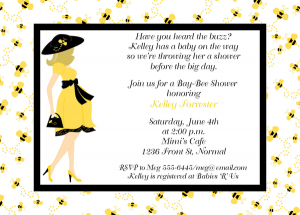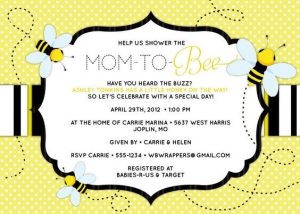 Sunshine-themed baby shower invite-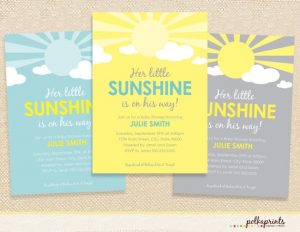 Baby Boy Ideas
Blue is the most common colour chosen for a little prince's arrival. So it's a great choice for your baby shower invite as well.
Use boy-themed images such as a little onesie with a tie, or a moustache. Team them with baby animal imagery, including monkeys or teddy bears for an added dose of cuteness.
Let your imagination run free, and declare the little one's gender with either a fun exclamation 'The forecast says boy!' or something more playful, such as 'Oh boy, a little man is on his way!'
Check out these samples…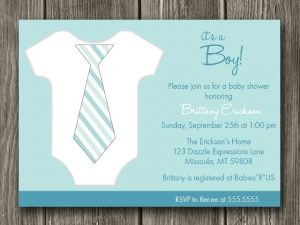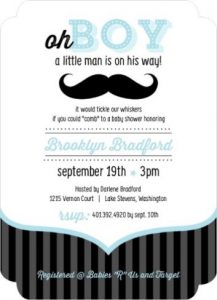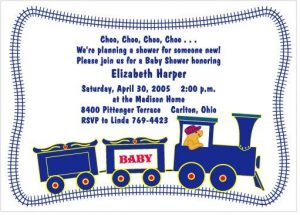 Baby Girl Ideas
Pink is the go-to colour for a beautiful little princess. So you can safely choose this gorgeous colour for your baby shower invite too.
Use girl-themed images such as a little frock, fairy, or pink hearts. Add some baby animal images or baby socks and bibs to complete the cute design.
You can share the good news about the little one's gender with some fun messages, such as simply 'It's a girl' or 'Sugar, spice and everything nice, that's what our little girl is made of!'
Ideas for Twins:
Twins are twice the fun! That means double the joy, which should definitely reflect in your shower invite. So your words should be all about happiness and excitement at the arrival of two little angels, such as 'Twice the fun twice the gear, the twins' arrival is drawing near!' Plus, you can use images with two babies, and keep the colour scheme both blue and pink or one of them, depending on the babies' genders.
Some samples…
For gender neutral twins, you can use the same colour palettes as we suggested for the gender neutral baby shower earlier, such as yellow, green and purple. All you have to do is use pictures of two babies instead of one, and some wonderful words to go with them! Team with neutral images such as baby bibs, socks, cribs or animals.
Some samples…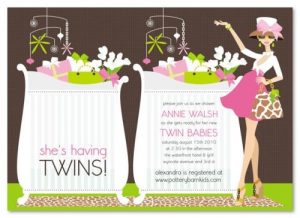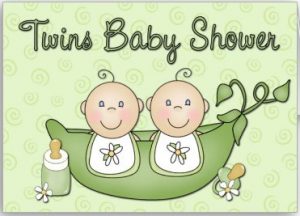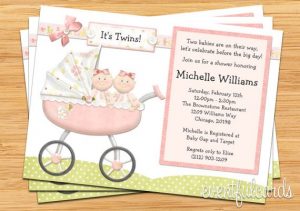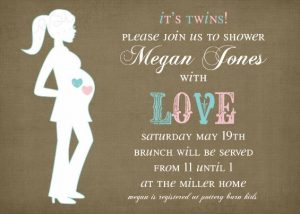 So what are you waiting for? Go ahead and use these awesome ideas to create your own custom baby shower invites and spread some smiles as you count the number of days to welcome the most precious little human on its way!
Buy your baby shower party supplies at Untumble.com