Chalkboard art is fun, beautiful, and super trendy right now! We see lots of chalkboard posters at parties, birthdays, and even weddings. People display everything from welcome messages to names and more on these posters, to add a unique, striking touch to their event decor.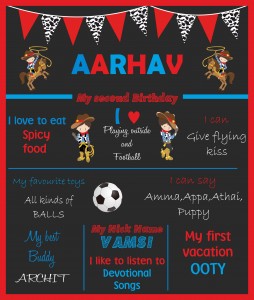 If you are wondering how to incorporate this trend into your little one's first birthday party, then the answer is: get a chalkboard for your child's birthday! It's cute, different, and the best part is, you can get it customized! Written as words spoken by your baby, they're great to read and are a wonderful way to craft some beautiful memories of your little one, which you can preserve and cherish for the rest of your lives.
Want to know what a typical baby birthday chalkboard looks like? Here's what most first birthday chalkboards contain:
The baby's name!
Sweet infant images or baby animal images.
Baby information, such as how many teeth the baby has, their favourite rhymes, their nick name, etc.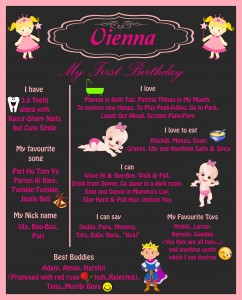 Some exciting and incredibly cute ideas for what you can include in the baby info:
I have (number of teeth)
I stand (how tall)
I weigh (baby weight)
I love (playing, eating, ceiling fans, television commercials, or anything that your one year old couldn't resist)
I can (clap, give kisses, crawl/walk)
My best buddies (name your baby's favourite play mates)
My favourite rhymes/games/toys/foods/etc.
For a creative twist, you could step away from this traditional chalkboard layout, and add some interesting information, such as your baby's milestones. You can list the dates, with the event description, such as:
March 1st – I turned on my tummy
August 1st – I said 'mama'
November 1st – I started walking
December 1st – My first flight
And so on….
We promise your guests are simply going to love going through the chalkboard. There's no two ways about it!
Chalkboards come in a variety of designs. You can go for a simple black chalkboard with white text, or a colourful one that will catch the eye of everyone at the party. If you're making a chalkboard for a party, you could blend it with your party theme, like matching the colours, animals, designs, patterns, and more!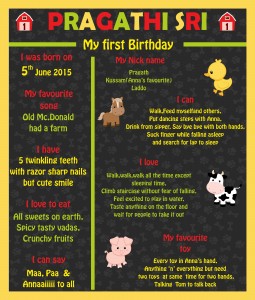 It will make a fantastic addition to your party decor, and can also be used as a photo prop to take cute pictures with. After the celebrations are over, hang it in the baby's room for a special display. You can also frame it if you want!
If you're looking to buy a custom birthday chalkboard in India for your tiny tot, then take a look at the collection that we offer at Untumble. We design lovely printed chalk boards that are made with a foam board base for a sturdy look and feel. They are three feet tall, perfect to prop up anywhere in your party space. Simply use a metal stand, PVC pipe, or a makeshift thermocol stand, and your display is ready!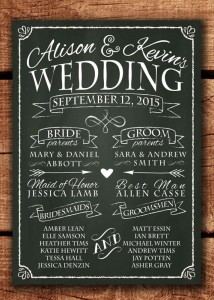 Choose from different themes available at Untumble, such as barnyard, fairy princess, and sunshine. They have a jet black, chalk-like background, with text and images in different colours. You can enter custom text, mail your baby pictures to tour team, and voila! Your personalized chalkboard is ready in no time. So visit www.untumble.com and choose your chalkboard today!