So, it's the Mother's Day week! That time of the year when you can catch up with your moms and spend some great moments together. We're sure you look forward to this day as much as your mom does. And as you're chilling with your mom and your family, here's something we think you'd enjoy reading.
All moms are Super Moms because they manage their work, home, and the most important part of their life – their kids, all extremely efficiently. This is perhaps the most clichéd sentence ever. So much so, that we sometimes believe that being a mom implies that one should be able to do all of the above. We overlook the fact that it's a hell lot of effort. Well, to all the mommies out there…we understand and we think what you're doing is simply amazing!
While some professions might be a bit more forgiving when it comes to flexibility, there are others that are quite demanding. And being a celebrity is a full-time job, much like being a mom is. Imagine bringing up a child amidst the paparazzi and all the limelight and still managing to give them a shielded protective childhood just like other kids. Now, that's an achievement in itself.
Here's presenting to you our list of top Celebrity Super Moms and how they manage to do it all, and in style!
Aishwarya Rai Bachchan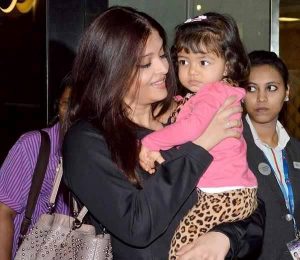 Aishwarya Rai Bachchan gave birth to her little girl Aradhya in 2011 and since then she has been a hands-on mom. Aishwarya has succeeded in ensuring her baby has a normal childhood. In her words, "I take her with me everywhere so she is a part of my multi-tasking life. I keep it as real for her as possible, and very normal. Now she is in school like any normal girl. But even when she was a toddler I'd take her to the play-park to be with other children…"
Kajol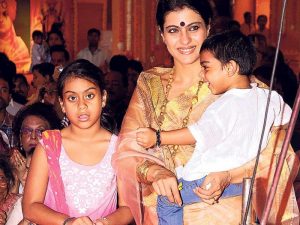 Kajol, who is now mom of 14-year-old daughter, Nysa and 6-year-old son, Yug, had been working in movies on and off, after the birth of her children. Kajol believes that it's a learning for children to have working mothers. Here's what she had to say, "I honestly think it's very educative for children to have working parents, and to have a working mother mostly, because that's where the influence comes on the girl child."
Madhuri Dixit Nene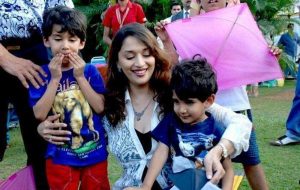 Madhuri Dixit Nene is a mother of two, Arin (14 years old) and Ryan (12 years old). She closely agrees with Kajol on the fact that mothers that manage work along with family set great examples for their kids. In her words, "It's a notion that career-oriented women often neglect their families. But we should cut them some flak; these women are doing everything for the sake of family, so that it progresses. I believe when kids see their mothers working hard, they take up responsibilities at home and are far more well-turned out than other children."
Shilpa Shetty Kundra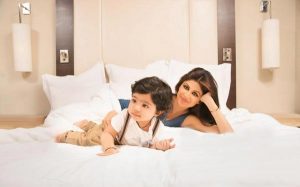 Shilpa Shetty gave birth to her now 5-year-old son, Viaan way back in 2012. Although her priority has always been her son since then, she never stopped working on various projects she was a part of, whether it is about actively being involved in her IPL team Rajasthan Royals or being a judge on popular TV talent shows. According to her, one must never stop working on oneself. She says, "While moving on in life, I went through a lot of phases & each phase came with immense responsibilities but along with this I tried to keep myself looking younger by the days.  What is most important is to be able to go through each life stage, and be able to deliver your best – without ever feeling weighed down by concerns like are you still going to look your best."
Sussanne Khan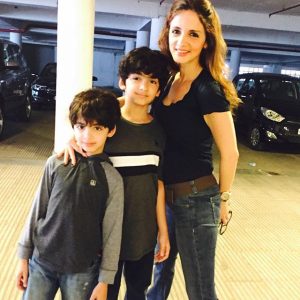 This modern mom believes in giving your kids complete independence whether it is about deciding what they want to pursue when they grow up or about allowing them to practice any religion of their choice. She has two kids, Hrehaan and Hridhaan with her ex-husband Hrithik Roshan. She says, "From the beginning, Hrithik and I have believed that children need to be treated as equals and as your friends." Perhaps that's why they say, you got to become your child's best friend and Sussanne seems to have totally nailed it!
Malaika Arora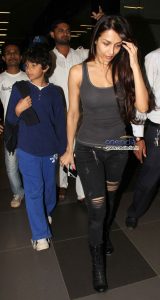 Malaika Arora gave birth to her son Arhaan Khan in 2002. She has been spotted with her son innumerable number of times which only shows that her son is an integral part of her life.
When asked how she manages to strike a balance between work and family life, her reply was, "To be honest, I don't think I am doing a great job. I am just like any other mother who tries to manage and balance their family along with their careers. An ordinary woman does the same amount of job like mine, I am no different. Having said that, I feel as women, we have an added advantage. We are great at balancing our time and we can do several things at once. I just use these natural skills to balance my work and family."
Kareena Kapoor
The brand new mommy, Kareena Kapoor, is celebrating her first Mother's Day this May. She thinks motherhood is the most beautiful phase of her life and that she's taking each day as it comes. When asked if she finds it difficult to do it all, she says, "I have always balanced my work and my marriage. People thought that I wouldn't, and I did. I am going to continue to do that. I think women know how to multi-task. Today, you see working women out there. If you have a family, if you have a child… It doesn't mean you are home-bound. Of course, there is time for that and work."
These cool mommies are surely taking the world by a storm. And, they are equally cool with their responsibilities back home. While, we give all the credit to the moms out there, we know what you moms achieve each day could not be possible without the love and support of your family. So, here's wishing you and your family a very Happy Mother's Day from the team at Untumble!