Watching cartoons is an essential part of growing up. You must have watched loads of them and so will your kids. The only source of entertainment for us back when we were kids were the shows that aired on Doordarshan and a few years later, on the Cable TV channels. This was long before the era of YouTube and Netflix. And as Bryan Adams would have said it, those were still the best days of our lives!
Kids, these days, have a crazy range of options to choose from. And also, a plethora of different devices to watch their favourite shows on. But, sometimes too many options could spoil us. Now, you don't want your kids to watch the shows that are counterproductive for them, right? Let's help you narrow down your choices. In this article, we introduce you to the top 10 Hindi cartoon shows that you could happily encourage your kids to watch!
Chota Bheem
Well, Chota Bheem needs no introduction. It's a widely popular Hindi cartoon show, in which the central character of Bheem is inspired by the Pandava brother of the same name.  Bheem, who is known for his bravery, valour and intelligence, is also righteous in his dealings with the world. There's a lot to be learned from this 9-year old who along with his friends, assist the King of Dholakpur, to protect their town from different kinds of problems.
The show aired on Pogo in 2008 and since then, it has become a rage among the younger population. Bheem's friend on the show – Chutki, Raju, Jaggu Bandar, as well as his enemies – Kalia, Dholu and Bholu are equally popular.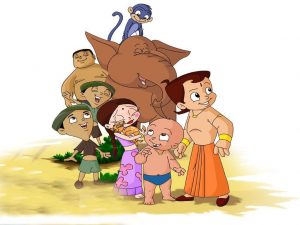 Motu Patlu
Motu Patlu, premiered on Nickelodeon in October 2012, is adapted from the popular comic strip featured on the Lot Pot magazine. Two friends, Motu and Patlu, living in a fictional city, Furfuri Nagar always end up disrupting the plans of "Jon the Don", an aspiring criminal, and his gang. Motu often lands himself in trouble and Patlu comes to his rescue every single time.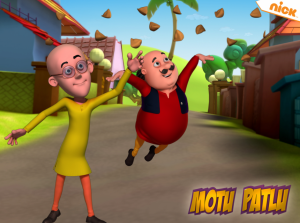 Little Krishna
Premiered in May 2009 on Nickelodeon, Little Krishna is based on the childhood tales and pastimes of Lord Krishna. The series brings to your kids unique stories and lessons from Krishna's life, especially childhood. This show blends legend and humour perfectly well to create a fun series, which is not only rich in content, but also well-researched. Little Krishna is based on the writings of Six Goswamis of Vrindavan, the Srimad Bhgavatam and on the seven years of research work performed by ISKCON, Banagalore.
If you want your kid to learn about the Hindu mythology, this could be a great show to pique their interest!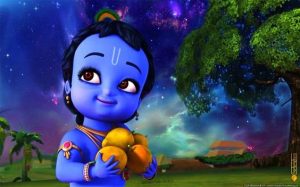 Mighty Raju
Closely aligned with the concept of Chota Bheem, mighty Raju is a 4-year old born with super powers. Raju's father is a Scientist. His mother accidentally consumed one of the chemical compounds called Neutrino, created by his father, when she was pregnant with Raju. This gave Raju extraordinary super powers. Raju tries to help the world by leveraging his super powers by solving the problems of the world, often by putting his own safety at risk.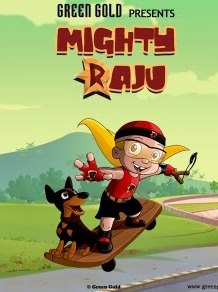 Roll No. 21
This series is inspired by the age-old rivalry between Krishna and Kansa. Kansa is reincarnated as Principal Kanishk, of the Mathura Anath Ashram, who plans on taking over Mathura with the help of his evil friends. However, due to the wit and intelligence of Kris, the reincarnation of Krishna, all his efforts end in fruitless exercises.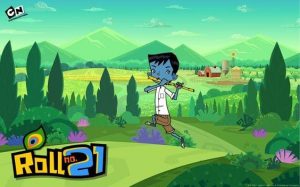 Krishna Balram
Krishna Balram is yet another interesting animated series based on the life of Krishna and his brother Balram. The story revolves around the numerous adventures Krishna and Balram experienced as children. It also shows Radha who accompanies them in their hilarious and exciting tales. The show is produced by Green Gold Animation, which is also the production house of Chota Bheem and Mighty Raju.

The Adventures of Tenali Raman
Arguably, the first Indian animated series to gain wide popularity soon after its release in June 2003. Aired on the Cartoon Network, this Hindi show, as its name suggests, is based on the life of Tenali Raman. A Telugu poet known for his wit and humour, Tenali Raman, was a hugely popular character in Indian folk tales and was adopted in various films, books, and cartoons. Needless to say, inspired by the life of Tenali Raman, this show is both educative and amusing, at the same time making it a source of perfect entertainment for its young audience. It's amazing to watch Tenali solve present-day problems with his wit!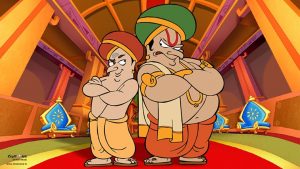 Chorr Police
Chorr Police is a fun show that's aired on Dixney XD. It revolves around the life of a thief, err…a good thief, also called the Robinhood Slumdog of Mumbai. Stealing from those who have things in excess and giving to the poor is the principle that Anthony lives by. He is chased by Police Lovely, a muscular Sardar, who decides to join the Police force after failing to be an actor. However, most cases end up with Anthony successfully escaping the crime scene.

Kumbh Karan
Kumbh Karan was released in June 2010 on Pogo. This show is based on twin brothers – Kumbh and Karan. The character Kumbh is inspired by the Ramayana character of the same name, who was one of the brothers of Ravana. Kumbh is a lazy kid who sleeps for half a year and nothing could wake him up but the aroma of delicious food. Karan, on the other hand, is an active and agile kid, who along with his brother Kumbh, their pet porcupine Kaddu and their friend Tara, embark on various adventures. The series revolves around these quests that are filled with thrill and lots of fun!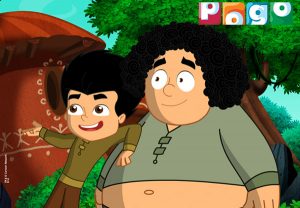 The Jungle Book
Yes, we know this one's not aired on any channel. But, we couldn't keep ourselves from including it in this list. The adventures of Mowgli, his childhood, his special bond with the animals of jungle, SherKhan, and the title song "Chaddi Pehen ke Phool Khila Hai" make this a must-watch for every kid. Even better, why not watch it along with your kid to relive your childhood days? It will be super fun!