Little girls love applying mehendi on their hands. And most of them get their inspiration from their mommies. Because if mommy can, so can they. But, there is a catch. They don't have the patience nor the time to sit through the whole process.
Often when the designs are complicated and intricate, they take more time and most likely, your little angel will be bored halfway through it. So, you're forced to do some really simple and easy designs for them such as polka dots and flowers, which don't leave your girl very satisfied. But not anymore!
We bring to you some amazing mehendi designs for kids that are not only great to look at but would take surprisingly less time to apply. And most important, your kid is going to love them. Why do we say so? Find out yourself…
Cartoon Animals Mehendi Design
The shape of a baby Giraffe is perfectly suited to adorn the tiny hands and all it takes is merely 5 minutes to get this design done. The fingers become the legs of the giraffe while the palm could be the body. Take inspiration from this picture and ask your mehendi artist to come up with creative animal cartoons for your children. Panda, Dolphin, Puppy, Monkey, and of course every kid's favourite, Teddy Bear are some great ideas for cartoon animal mehendi designs.
On occasions such as weddings, all kids in the family could go for different animal cartoons for their mehendi designs and trust us, the little ones would keep themselves busy talking about and showing off their designs.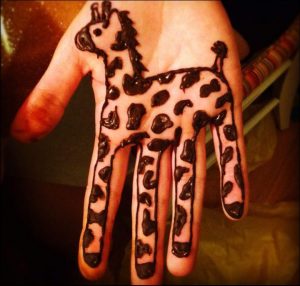 Harry Potter Inspired Mehendi Designs
Is your girl a Harry Potter fan? Well, there's a way to blend her love for Harry Potter and mehendi through some amazing mahendi designs inspired by the Harry Potter series. Whether it is Harry's spectacles with a lightining bolt, or a caricature of Harry, along with his friends Ron and Harmione, you can get all creative and imaginative with these designs.
The picture here will get you started. And you can always ask your kid to share her ideas and suggestions. Maybe she'll come up with something truly beautiful and unique!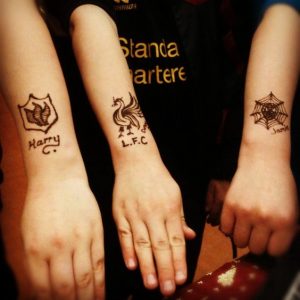 Cartoon Character Mehendi Designs
Mickey, Minnie, Tom & Jerry, Donald Duck, Dora, Doraemon, Shin Chan, and so many other cartoon characters – you and your child can choose from for their next mehendi. The best part is that drawing them all is quite easy and quick, leaving your little angel with a big smile on her face. Plus, she's have her favorite cartoon character with her all the time.
For a change, even little boys could experiment with some of these designs. Because, why not. They can have Ben 10, Super Man, Spider Man, or Bat Man on their hands or child heroes such as Chota Bheem or Mighty Raju.  Check out this beautiful Mickey mouse mehendi design!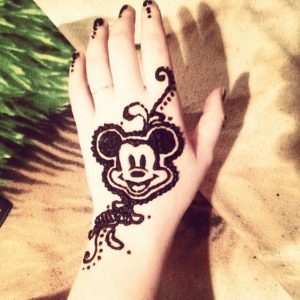 Traditional Mehendi Designs Fused with Cartoons
Who said traditions are boring? You can always add a little twist to the age-old traditions to lighten them up and make them fun. If your girl is old enough to patiently sit for about half an hour or so, you could go for slightly more intricate mehendi designs for her. These designs could be infused with her favorite cartoons – whether it is animals, her favorite movie character, super hero, or cartoon characters that we just saw. Check this out to understand what we mean…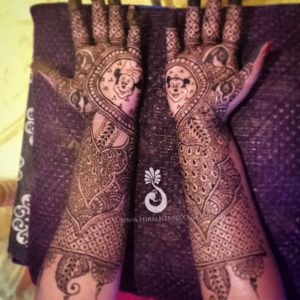 Pokemon Mehendi Design
Wikipedia says there are 802 Pokemons in all, this means over 800 different designs for you to select from. Well, let's face it – some of the Pokemons don't look great so you could safely ignore them. But still, you'd have a wide range of really cute and awesome Pokemons as your child's mehendi.
Want some inspiration? Here are some of our favourites – Pikachu (yes, isn't he the cutest?), Squirtle, Clefairy,  Snorlax, Jigglypuff, Poliwag, Dratini and Balbasaur.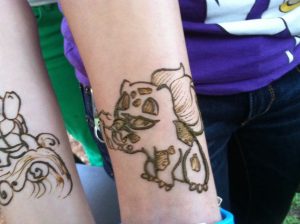 Kids love glitter and colour, why not add some of those too in all their mehendi art. In the above picture, you'll see Pikachu with a hint of gold, making it even more adorable!
That brings us to the end of this list. Like we said before, these are just a few ideas to get you started. When it comes to mehendi designs you could get as creative as you could be. We'd love to see your creativity and suggestions in the comments below. And remember, next time you get a mehendi for your child, do post a picture here!