Birthdays only come once a year. This is supposed to be the most special day of the year and yet it's hard to come up with ideas that will create a day filled with delight. What's more, what would be the one thing that will make the day?
The answer is simple – you can create excitement with a personalized birthday song that will thrill your kid, friend or loved one and make him/her feel so much special.
Think of it. What's a birthday celebration without a birthday song? No doubts, the culmination of every birthday party is singing the Happy Birthday song, making the wish and blowing out the candles.
Traditionally, the list of birthday songs is led of course by "Happy Birthday To You". Along with it, BirthdaySongsWithNames.com has 5 additional birthday songs that you can personalize.
How can I find a birthday song with a particular name?
Go to the alphabets shown in the page. Pick an alphabet or start typing the letters of the name you are searching a song for  (as shown in the image below).

This will open a new screen with all the names starting with the particular letter (if you choose an alphabet). From there you will have to find the name.
If you are choosing the Search option, then you will be led directly to the Name page.
Five options of songs with play are available for this name. You can listen to all of them and decide which one you like best.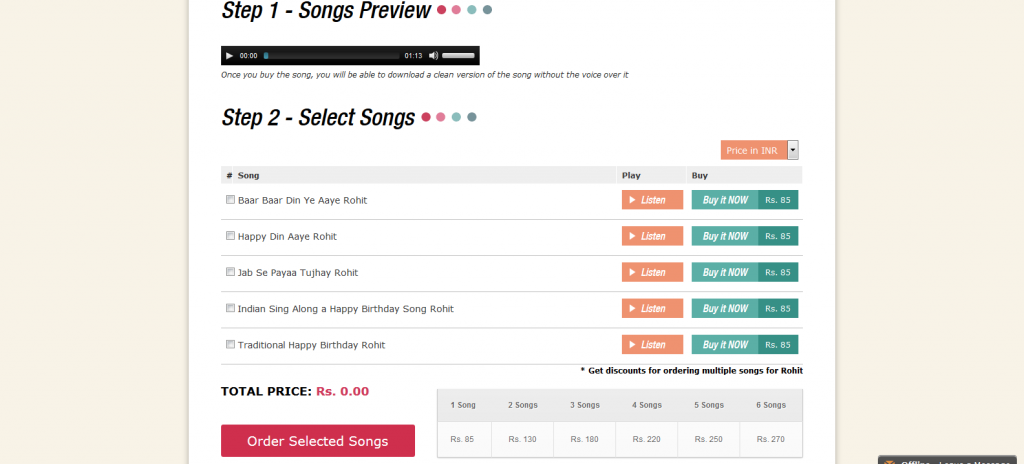 Select the song, you are going to buy and place an order. The checkout is simple and it takes just a couple of minutes to complete.
The personalized birthday songs are a pretty affordable birthday gift. The price starts at from only Rs. 85
What's next?
Once you get the song, you can:
Share the song on Facebook and Twitter so that everyone can celebrate.
Download the MP3 song and send it through Whatsapp
Email it to the birthday person
Burn it on a CD and play it at the birthday party.
Create a music birthday card
Make an awesome birthday video.
Why wait? Just check out birthdaysongswithnames.com to get your personalized song, make an eCard or create an awesome birthday video right now for your dear ones!
How can I get connected with birthdaysongswithnames.com?
You can go directly to the website birthdaysongswithnames.com. You can also get in touch with them via their FB page, Twitter, and Pinterest profiles too.