Summer is here! That time of the year when your thirst is never quite quenched no matter what you drink. You have this constant urge to drink cold juices with ice cubes and treat yourself to ice creams and smoothies all day long. And the little ones are the most affected by the heat. They'd come running to you every hour or so, asking for something cold, right? And juices are just not enough. And kids find them "boring".
Well, do you know there's a really cool way to spice your juices and summer drinks? How? Tada – Enter Fruity Ice Cubes. Ice Cubes with a fruit punch – what a brilliant idea! These colourful cubes make your drinks and juices look cool, quite literally, and your kids would love them. So, what are the different types of fruity ice cubes and how do you make them? Sip a drink and read on…
Citrus Ice Cubes
Citrus is one of the favourite summer flavours. Citrus fruits can instantly make you feel fresh and they also important nutrients such as Vitamin C, potassium, and of course lots of water. People love having limes and oranges, and would anytime be up for a glass of lemonade. How about giving ice a little lime tinge? Well, here's what you could do. Take a bowl and line the bottom with thinly sliced limes, lemons, and oranges. Arrange them in such a way that it looks like a fantastic combination of green, yellow and orange colours. Now, pour water into the bowl and freeze it.
Take scoops of the chilled citrus ice and infuse them in your fruit punch for that great taste and tang. As for your kids, they'll love the floating lime in their drinks. And so will the adults!
Coffee Ice Cubes
Did the heading of this section make you feel excited or a bit surprised? Whatever your reaction was, let us tell you coffee ice cubes are a great way to enjoy some relaxing cold coffee in a brand new style this Summer. And the taste? You should check it out yourself. Perfect for kids and adults, this ice cubed coffee is simple to make but amazing to drink.
Just freeze your coffee or tea, if you're a tea person, and add the cubes to your cold coffee or iced tea. As simple as that. You could also serve a dish of coffee cubes separately, so your little ones could enjoy coffee popsicles.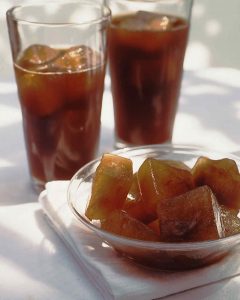 Watermelon Cubes
Do your kids love watermelons? You might wonder, is that even a question. Yes, who doesn't like watermelons! They are juicy, have a brilliant red colour and taste delicious. Ever wondered using them as cubes?
The bright red cubes of watermelon can add glamour and coolness to any drink, whether it is a watermelon juice or a lemonade. You could add some greens for the sake of contrast to take the drink to another level.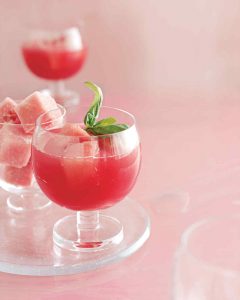 Worm Ice
The title of this section and the picture below might have made you cringe. But, while the gummy worms give us adults the creeps, the kids seem to love them. That's why, it's a great idea to blend the gummies with some ice and serve your little ones a nice and cold ice worm drink.
What do you need? Bug-shaped gummy candies, water, and ice cube tray. Your ice worms would be ready to creep the hell out of any drink. Try them out, these worms never fail to bring that wide smile on your precious little one's face!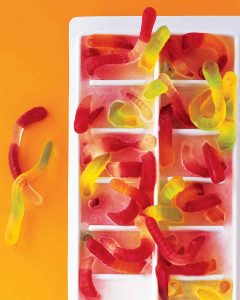 Well, these are just a few fruity ice cube ides to get your summer started. As you start serving exciting drinks such as these, you might come up with a few ideas yourself. If you do, we'd love to know them. Do post a picture of your drink and your secret recipe in the Comments section below.
Have a Happy and Icy Summer!