Expecting a child? The nine months before that magical moment, when you see your newborn for the first time, are equally magical. Every little thing makes you happy, excited and shall we say, anxious too? When your baby bump starts showing, when you hear your kid's heart beat for the first time, when you see their tiny hands in the sonogram, when you experience their first kick and so many others after that, far too many things happen during those special 9 months when you and your partner are eagerly awaiting your bundle of joy..
Want to cherish the memories of those 9 months forever? How about a maternity photoshoot? It's easy, fun and most importantly, it will become a fantastic piece of memory for life. Thinking of how to go about it? Here are some super cool photoshoot ideas to show off your baby bump and welcome the newest member of your life…
Dress up the mommy-to-be like a princess
Ever girl wants to be treated like a princess. Pregnancy is your time to pamper yourself. Why not dress up like a princess and flaunt your baby bump in style? Pick up some of the best gowns, preferably in feminine shades, because nothing is more feminine, beautiful and gracious than motherhood.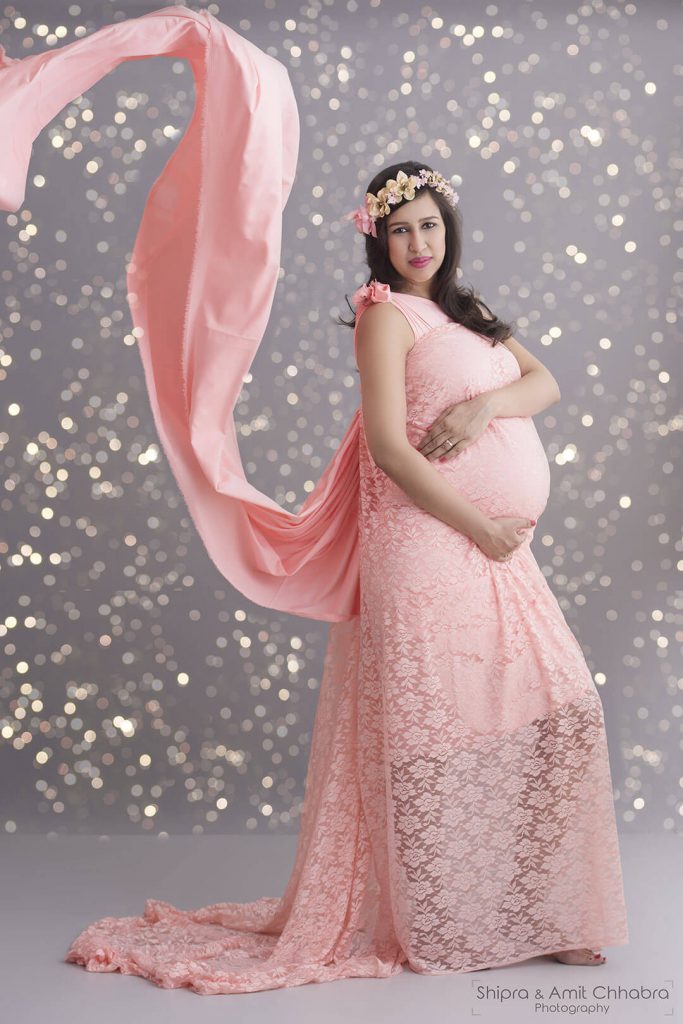 Image Source : http://www.shipraamit.com/pregnancy-photo-shoot-delhi/
Go traditional!
Yes, we have seen too many maternity photoshoots where future moms wear gowns and dresses. Want to ditch those and go for the desi look? That's a great idea too. Go all traditional for your maternity photoshoot and you'll be surprised to see how beautiful those lehengas or sarees make you look. It's also a fantastic ay to relive the memories of your wedding. After all, it's the last photo session of you two together as a family, while the third member is on its way.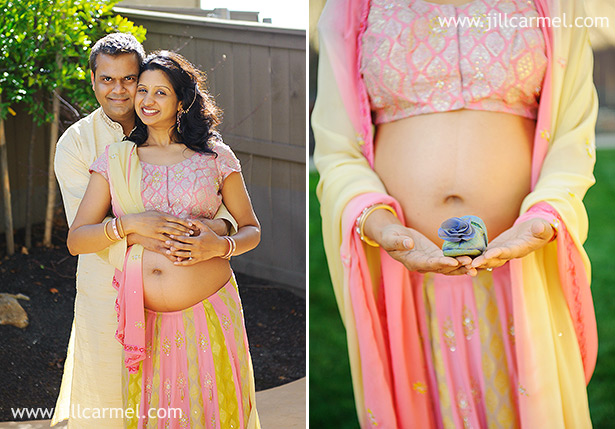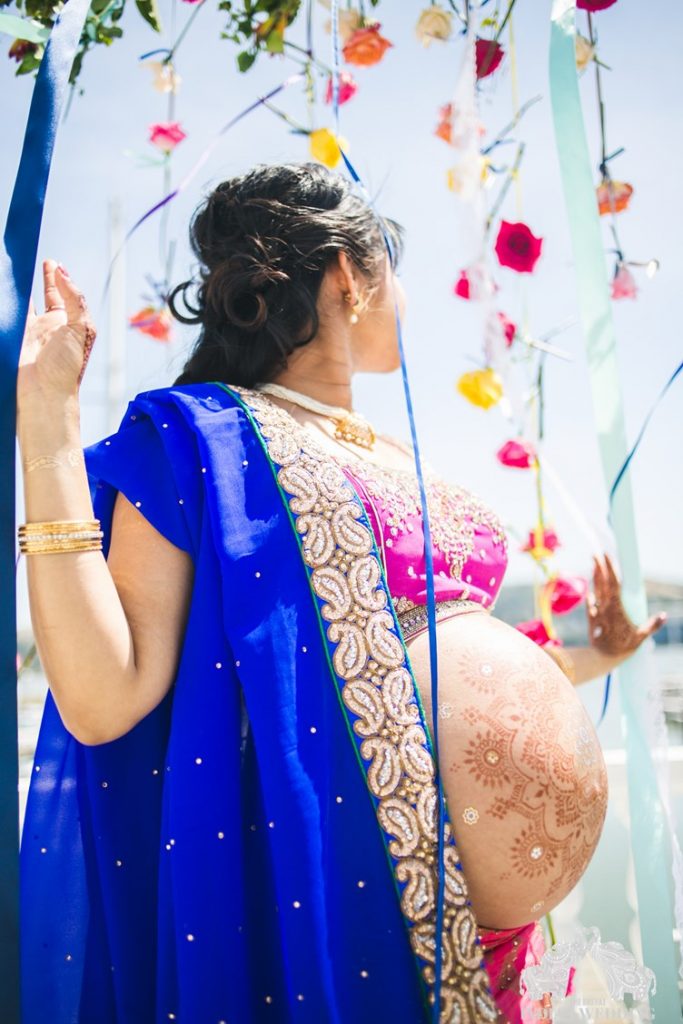 ---
Future mommy and daddy with baby stuff…
Sure, your baby is not here yet. But, that doesn't mean you can't include their belongings in the maternity photoshoot. Whether it is the baby shoes, baby chair, baby laundry or anything that would belong to your kid in the future can be a place holder until they arrive.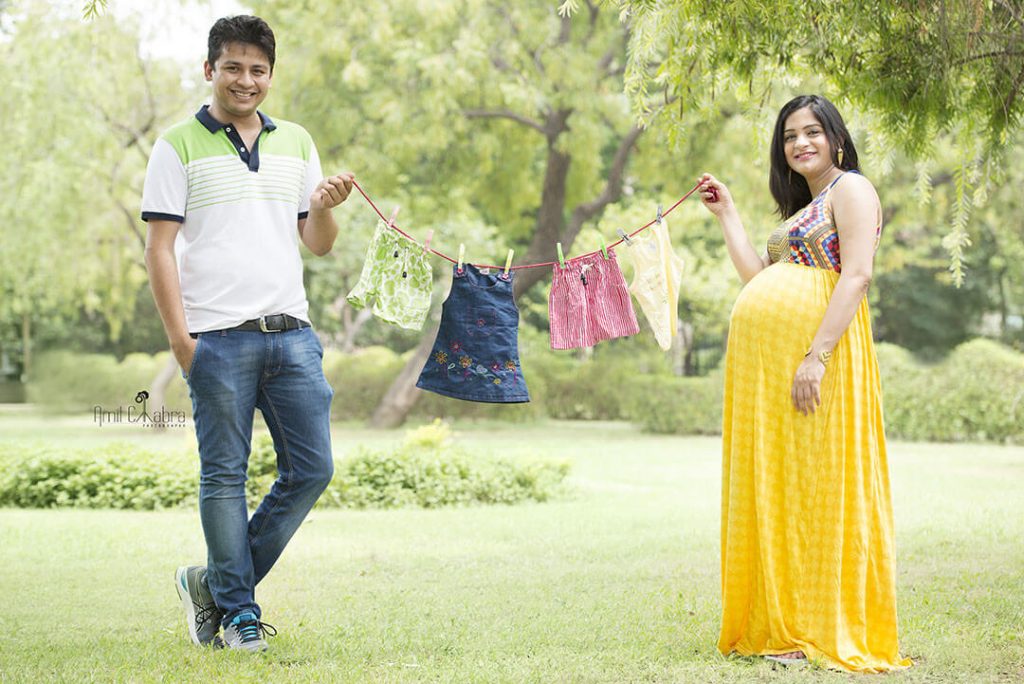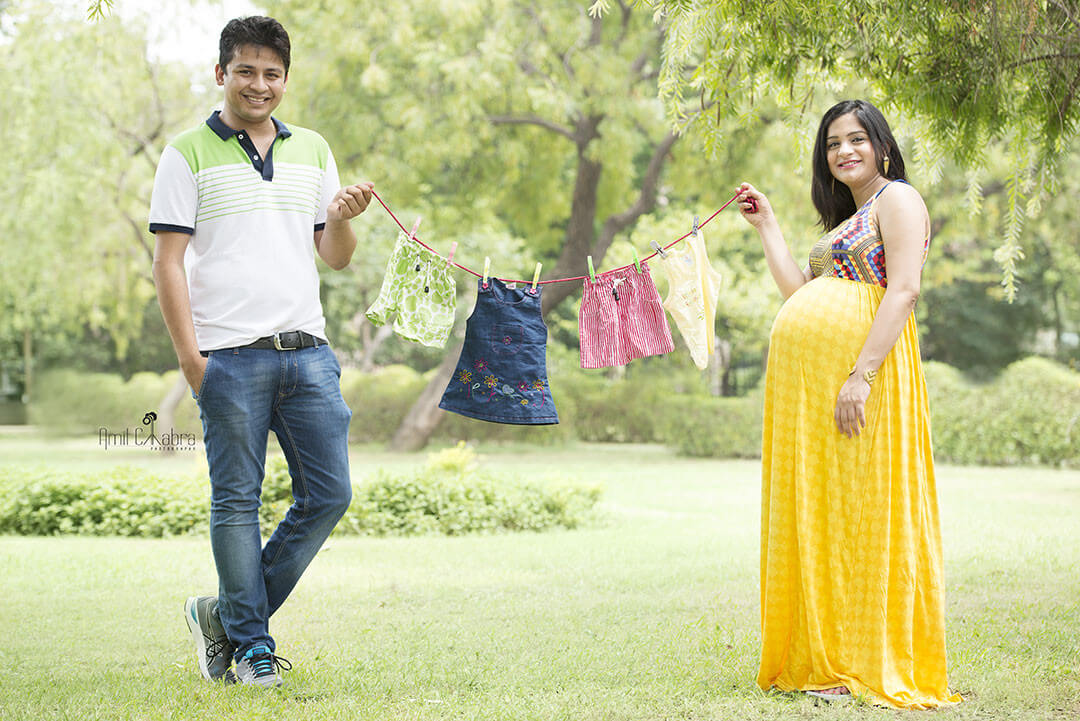 Image source : http://www.shipraamit.com/
Mommy, Daddy at their romantic best!
The bond between couples become even stronger during those 9 months of pregnancy. Although, only one of you is carrying the baby, every experience is mutual. You feel the same things, joy and happiness, eagerness and excitement, and the adventure you live together, is all worth capturing.
So, we suggest it would be a great maternity photoshoot if the special bond that you share with your partner is captured through the lens.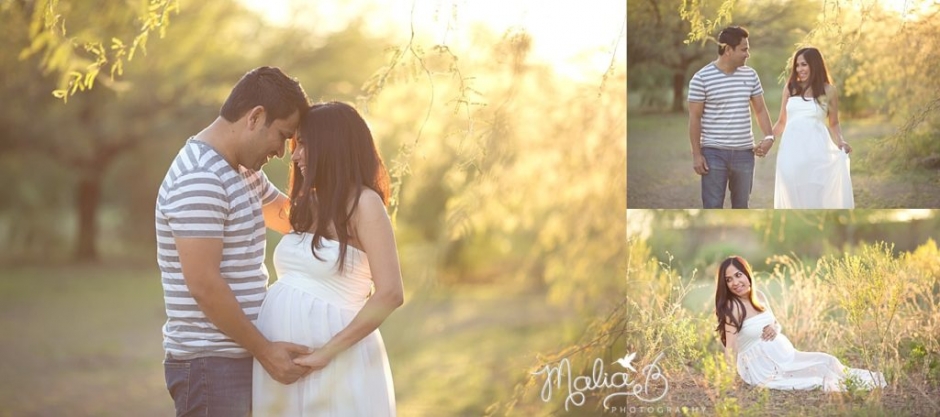 Image Source : http://www.maliabphotography.com/
Mom and Dad with the older sibling
Do you already have an older kid? Make your maternity photoshoot a family photoshoot by including your firstborn too. It's a special time even for them as they await the arrival of their little brother or sister. Perhaps, they are more excited than you are!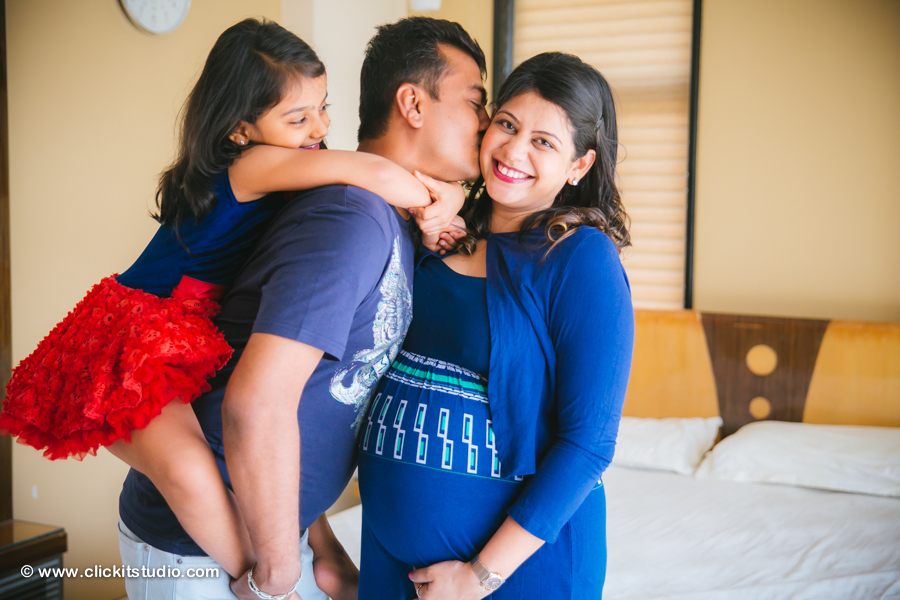 Image Source : http://clickitstudio.com/
Mommy-to-be and Daddy-to-be with cool messages
Maternity photoshoots are all about having some light-hearted fun times together. Why not add a little more fun with some quirky messages! Check out the pictures below for some inspiration. Instead of messages you could also go for possible names that can be held on a chalkboard or a placard. You can then run a small poll to see which names get the maximum votes on your social networking sites.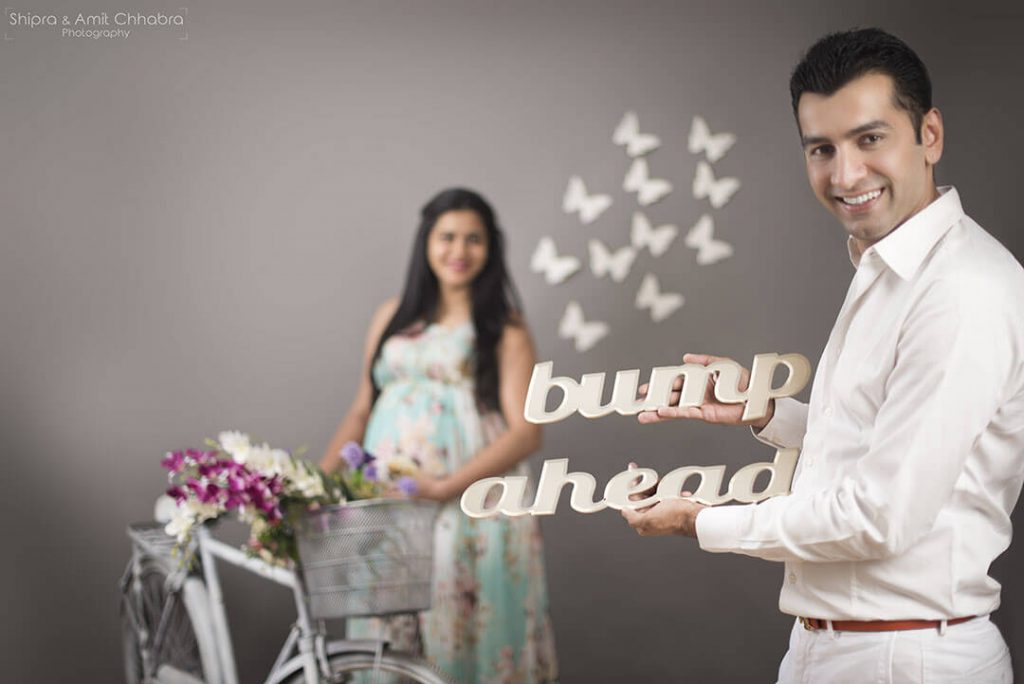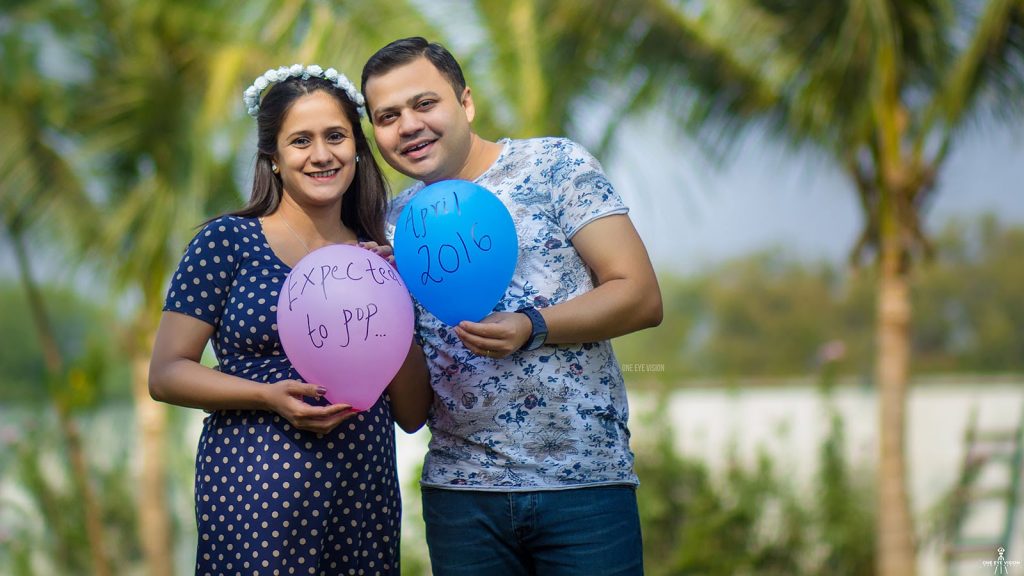 Image source : http://www.shipraamit.com
Well, that was our list of some maternity photoshoot ideas. Did something different from what's mentioned above? Or planning to? Let us know your maternity photoshoot ideas and do share your experiences with us through your comments.
---